Barcelona, the vibrant capital of Spain's Catalonia region, is a city that boasts a rich history, stunning architecture, endless sunshine, and a lively food and drink scene. There is no shortage of things to do in Barcelona, whether you are intrigued by art and culture or looking for an adventure.
One of the most famous attractions in Barcelona is the spectacular Basilica de la Sagrada Familia, designed by the iconic architect Antoni Gaudi. This unfinished masterpiece is a breathtaking sight to behold, with towering spires and intricate facades that tell the story of the birth, life, and death of Jesus Christ. Visitors can explore the inside of the basilica and admire the stunning stained glass windows, which cast a colorful glow across the space. An audio tour is available to learn about the history and significance of the basilica.
Another must-visit location in Barcelona is Park Guell, another Gaudi masterpiece and a UNESCO World Heritage site. This whimsical park boasts incredible views of the city, brightly colored mosaics, and unusual architecture that will leave you in awe. Spend an afternoon meandering through the park's winding paths and marveling at the mosaic dragons and gingerbread house-esque buildings. The park does get crowded, so it's recommended to get there early in the morning or just before closing time to avoid the crowds.
Top Attractions in Barcelona
Barcelona is one of the most visited cities in the world thanks to its rich history, vibrant culture, and impressive architecture. From the Gothic Quarter to Park Guell, there's no shortage of things to do and see. Here are some of the top attractions in Barcelona:
Sagrada Familia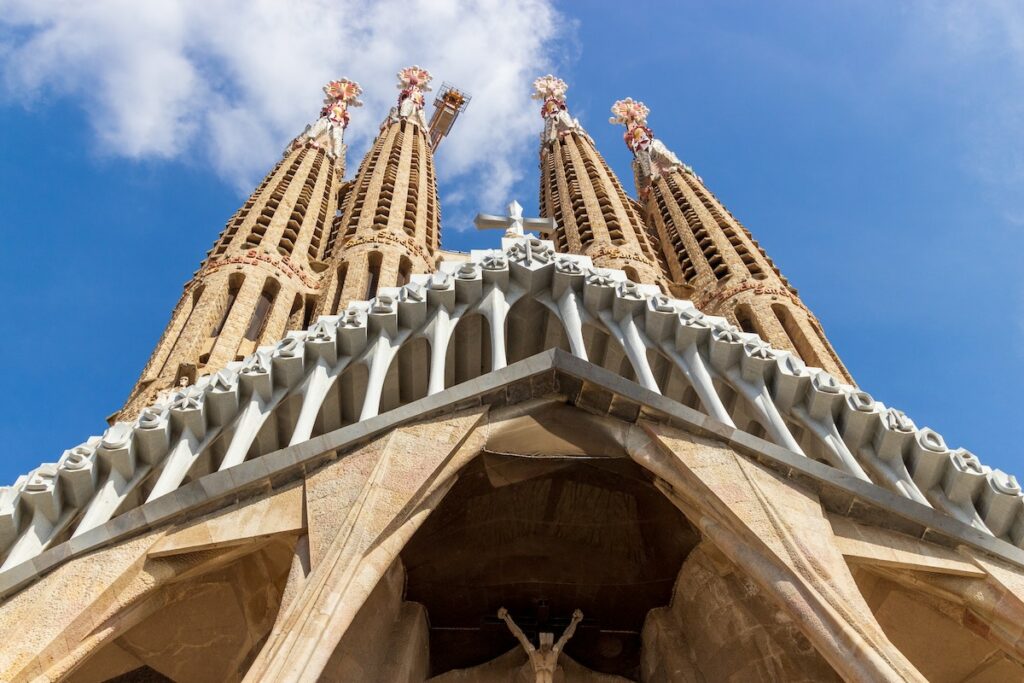 Perhaps the most famous attraction in Barcelona, the Sagrada Familia is an iconic cathedral designed by renowned architect Antoni Gaudi. The ongoing construction of this monumental church began in 1882 and is still being completed to this day. Visitors can bask in the stunning beauty of the intricate facades and towering spires, as well as explore the history and symbolism behind Gaudi's design.
Park Guell
Another Gaudi masterpiece, Park Guell is a whimsical outdoor space featuring colorful mosaics, winding streets, and incredible views of the city below. This public park is free to enter, but some areas require tickets to access. Visitors can spend hours wandering the maze-like paths, marveling at the stunning tile work and unique sculptures throughout.
La Rambla
La Rambla is a bustling street that stretches through the heart of Barcelona's city center. Lined with cafes, shops, and street performers, this lively pedestrian boulevard is a hub of activity day and night. Stroll along the tree-lined sidewalk to experience the energy of the city and make sure to check out the famous food market, La Boqueria, for some tasty treats.
Gothic Quarter
The Gothic Quarter is a sprawling section of the city that dates back to Roman times. This picturesque neighborhood features narrow alleys, ancient architecture, and quaint plazas. Visitors can explore the countless shops, bars, and restaurants that line the cobblestone streets, or simply soak up the historic charm of the area.
Casa Batllo
Casa Batllo is a stunning example of Gaudi's creativity and innovation. This colorful building is located in the heart of the Eixample district and is famous for its dragon-like roof and ornate balconies. Visitors can take a guided tour to learn more about the history and design of this unique landmark.
In conclusion, Barcelona is a city full of amazing attractions and experiences. Whether you're interested in history, art, architecture, or just soaking up the vibrant culture of the city, there's something for everyone here. Don't miss out on these top attractions during your visit!
A Foodie's Guide to Barcelona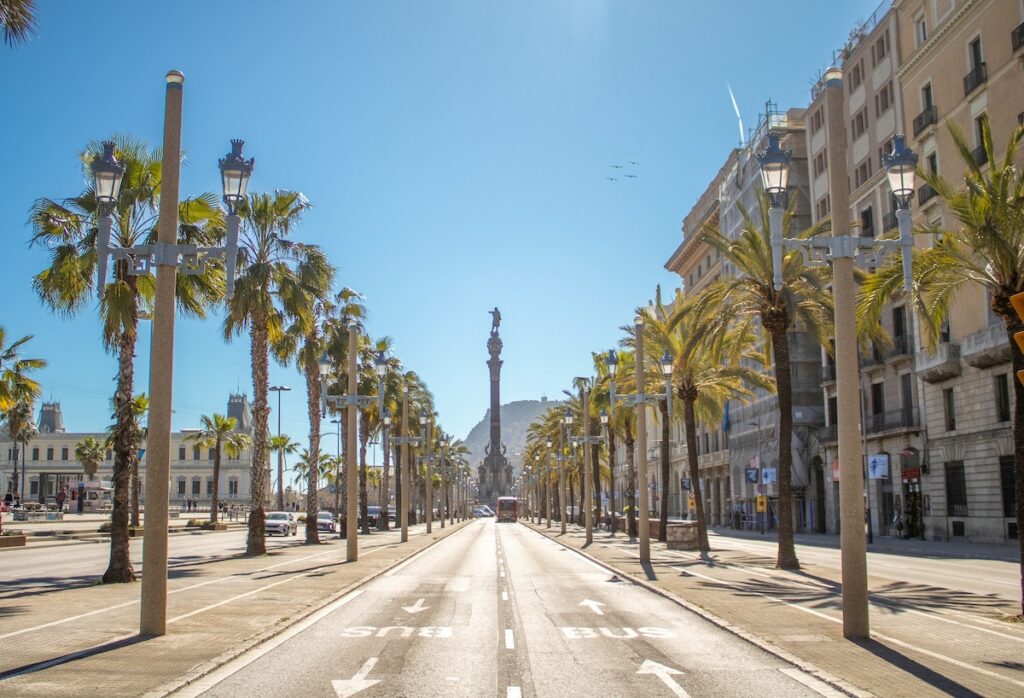 Barcelona is a heaven for foodies, with its rich and diverse culinary scene that boasts traditional Catalan dishes as well as modern and international cuisine. From trendy restaurants to small tapas bars and food markets, Barcelona has something for every taste and preference. Here's a guide to some of the must-try foods and places for any foodie visiting the city:
Tapas Bars: Tapas are small dishes that are usually served with drinks, and they are an essential part of the Spanish and Catalan culinary culture. In Barcelona, you can find numerous tapas bars that offer a variety of delicious bites, from meat and seafood to vegetarian and vegan options. One of the most popular tapas bars is Els Quatre Gats, a legendary restaurant that has been frequented by famous artists and writers since the early 20th century.
Seafood: Being a coastal city, Barcelona is renowned for its fresh and flavorful seafood dishes. Some of the must-try seafood dishes include paella de mariscos (a rice dish with seafood), fideuà (similar to paella but with noodles instead of rice), and mariscada (a platter of mixed seafood). For a top-class seafood experience, visit Rias de Galicia or Barceloneta's Can Majó.
Mercat de la Boqueria: Mercat de la Boqueria is one of the oldest and largest food markets in Europe, attracting locals and tourists alike with its vibrant colors and aromas. You can find here a wide range of fresh fruits, vegetables, meats, seafood, spices, and other delicacies that will tantalize your taste buds. Some of the popular food stalls worth trying include Pinotxo Bar and El Quim de la Boqueria.
Canelons: Canelons are a traditional Catalan dish that is usually served during Christmas. They are similar to Italian lasagna but with a Catalan twist, consisting of pasta tubes filled with meat, mushrooms, and other ingredients, topped with béchamel sauce and grated cheese. Try them at Can Travi Nou, a cozy restaurant that serves authentic Catalan cuisine.
Chocolate and Churros: For a sweet and indulgent treat, head to Granja La Pallaresa in the Gothic Quarter, which has been serving delicious chocolate and churros since 1947. The thick hot chocolate served with crispy churros is a heavenly combination that will satisfy your sweet tooth.
In summary, Barcelona's culinary scene is diverse, rich, and satisfying, with options that cater to different tastes and budgets. Whether you want to explore traditional Catalan cuisine or try international delicacies, Barcelona won't disappoint.
Best Nightlife Spots in Barcelona
When the sun sets in Barcelona, the city comes alive with vibrant nightlife. From trendy bars to electrifying clubs, there are endless options for those looking for a night out. Based on my personal experience, here are a few of the best nightlife spots in Barcelona:
1. Razzmatazz
Razzmatazz is one of the most iconic clubs in Barcelona, known for its eclectic music and energetic atmosphere. The club has multiple rooms, each with its own unique style and vibe, playing everything from indie rock to techno. It attracts a diverse crowd of both locals and tourists and is a must-visit spot for anyone looking to experience Barcelona's nightlife.
2. Eclipse Bar
Located on the 26th floor of the luxurious W Barcelona hotel, Eclipse Bar offers stunning panoramic views of the city skyline. The bar is known for its creative cocktails and sophisticated atmosphere, making it a favorite among the city's elite. While it may be on the pricier side, the breathtaking views and high-end experience make it worth the splurge.
3. Barceló Raval
Barceló Raval is a stylish hotel located in the heart of Barcelona's trendy Raval neighborhood. Its rooftop bar offers panoramic views of the city and is a popular spot for both hotel guests and locals. The bar serves up delicious cocktails and hosts regular events, including live music and DJ sets.
4. Opium
Opium is a beachfront club that has become a staple in Barcelona's nightlife scene. It boasts a massive dance floor, multiple bars, and outdoor seating with views of the Mediterranean. The club regularly hosts international DJs and has a strict dress code, making it a popular spot among the city's stylish and well-dressed crowd.
5. El Born
For those looking for a more laid-back vibe, El Born is a charming neighborhood filled with cozy bars and cool cafes. This trendy area is popular among locals and tourists alike and is known for its relaxed atmosphere. It's the perfect spot for a low-key night out with friends or a date.
Overall, Barcelona's nightlife scene has something for everyone, whether you're looking to dance the night away or enjoy a cocktail with a view. These spots are just a few of my favorites, but there are endless options to explore in this vibrant city.
Barcelona's Hidden Gems
If you've already spent some time in Barcelona and visited the most popular tourist attractions, it might be time to uncover some of the city's hidden gems. Here are a few places that are off the beaten path but worth checking out:
Els Tres Tombs: This annual festival, usually held in January, is a celebration of horses in the city. Horse-drawn carriages parade through the streets of the Sant Antoni neighborhood, complete with riders in traditional Catalan dress.
Plaça de Sant Felip Neri: Tucked away in the Gothic Quarter, this tranquil and charming plaza is home to a beautiful Baroque church and a fountain that dates back to the 1700s. Despite its historic significance, it's often overlooked by tourists.
Casa Ramos: If you're looking for a unique souvenir, head to this antique shop in Gracia. It's packed with unusual items like antique cameras, typewriters, and musical instruments.
Palau Dalmases: This 17th-century palace in the Born neighborhood hosts nightly flamenco shows in an intimate setting. It's a great way to experience traditional Spanish culture without the crowds you'll find at larger venues.
Bunkers del Carmel: For sweeping panoramic views of Barcelona, head to the Bunkers del Carmel. This former anti-aircraft bunker offers stunning views of the city and is a great spot for a picnic or sunset watching.
These hidden gems are just a few examples of the many unique places waiting to be discovered in Barcelona. Continue exploring and you're sure to uncover even more fascinating sights and experiences.
Exploring Gaudi's Architecture in Barcelona
Barcelona is known worldwide for its stunning architecture, and no discussion of architecture in this city would be complete without mentioning the genius of Antoni Gaudi. Gaudi, perhaps more than any other architect, has left his mark on the Catalan capital, with his works dotted throughout the city.
One of the most iconic Gaudi buildings in Barcelona is the Sagrada Familia, a huge Gothic cathedral that has been under construction since 1882 and is still ongoing. With its distinctive spires and ornate decoration, the building is immediately recognizable and attracts huge numbers of visitors every year.
Another of Gaudi's famous buildings is Casa Batllo, a residential building located in the Eixample district of the city. The building is famous for its colorful and curvaceous facade, which is said to represent the dragon slain by Saint George. Inside, the building is just as stunning, with a range of unique architectural features like the incredible light well that descends through the center of the building.
While many of Gaudi's buildings are concentrated in the central areas of the city, one of the most fascinating is Park Guell, which is located in the Gracia district. The park was originally designed as a housing development but was later converted into a garden and public space. It features an array of stunning features like the famous lizard statue and the undulating bench that provides panoramic views of the city.
Overall, exploring Gaudi's architecture in Barcelona is a must-do for any visitor to the city. The sheer diversity and creativity of Gaudi's buildings is staggering, and they provide a fascinating insight into the mind of one of the greatest architects of all time. Whether you're interested in history, art, or architecture, Barcelona's buildings have something for everyone to appreciate.
Barcelona Beaches to Visit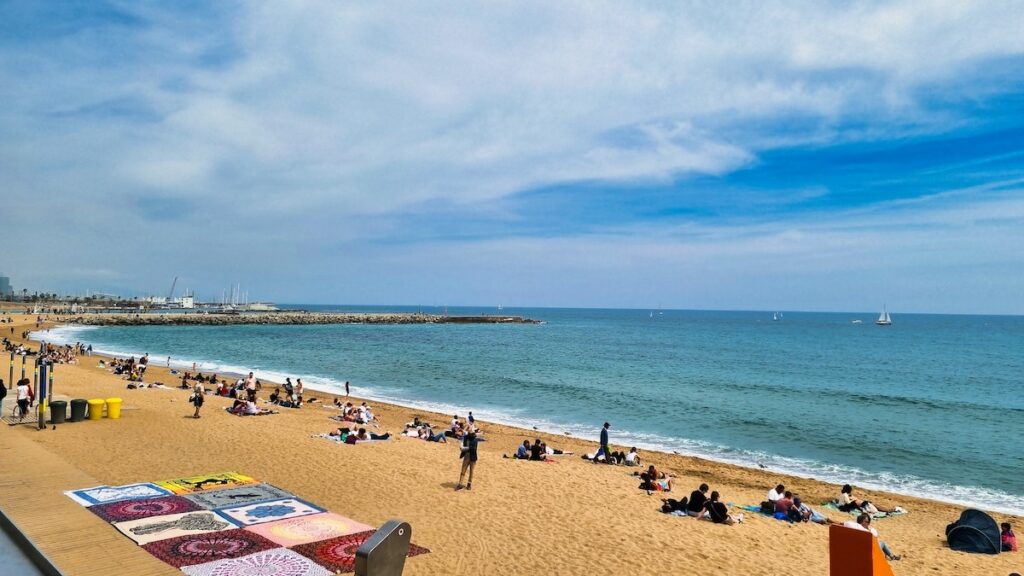 If you're headed to Barcelona for your next vacation, you're in for a treat – the city boasts some stunning beaches. Here are a few of the best beaches to visit that are sure to make your trip an unforgettable one.
Barceloneta Beach
Barceloneta Beach is one of the most popular beaches in Barcelona and for good reason. It's located right in the heart of the city, easily accessible by foot or public transportation, making it a great option if you're short on time. With plenty of restaurants and cafes lining the boardwalk, you can enjoy a leisurely lunch or grab a drink at one of the beach bars.
Nova Icaria Beach
Nova Icaria Beach is a peaceful oasis that provides a respite from the crowds. It's located near Barceloneta Beach, but it's much quieter and less crowded. This makes it a great choice if you're looking for a relaxing day on the beach. You can rent a beach umbrella and lounge chair and bask under the hot Spanish sun. There are also some great seafood restaurants nearby.
Bogatell Beach
Bogatell Beach is a great spot for families with kids as it has plenty of amenities like showers, changing rooms, and toilets. It's also quieter than some of the other beaches in the area, making it a great place to relax on a busy day. At this man-made beach, you can enjoy water sports like windsurfing or volleyball.
Mar Bella Beach
Mar Bella Beach is a lively, trendy beach known for its array of water sports activities. Here, you can try your hand at kite surfing, kayaking, or paddle surfing. It's also a great spot for nude sunbathing, as it has a designated clothing-optional area.
Sant Sebastià Beach
Sant Sebastià Beach is the longest beach in Barcelona, stretching over a mile long. It's a great place to take a long stroll while taking in scenic views of the city skyline. This beach also boasts a lively nightlife, with a few clubs and bars nearby.
Barcelona is home to a variety of beaches, each with its own unique atmosphere and appeal. Whether you're looking for a lively beach with water sports, a family-friendly beach with amenities, or a peaceful haven to relax, you're sure to find something that suits your needs.
Shopping in Barcelona: Best Markets and Boutiques
Barcelona is a shopper's paradise with an array of markets and boutiques offering unique and trendy items. Whether you are in search of souvenirs or looking to revamp your wardrobe with the latest fashion, Barcelona has something to offer everyone.
Here are some of the best markets and boutiques in Barcelona:
La Boqueria Market: This iconic market is a must-visit for foodies. It offers a wide range of fresh produce, seafood, meats, and a variety of local delicacies. The market also has several bars and restaurants where you can enjoy a quick bite while soaking up the lively atmosphere.
El Born Market: Located in the trendy El Born neighborhood, this market showcases the best of Catalan fashion and design. It offers a mix of boutiques, vintage shops, and artisanal stores selling unique handmade products. The market also has several bars and restaurants where you can take a break and enjoy some tapas.
Passeig de Gracia: This upmarket shopping street boasts high-end fashion brands like Gucci, Prada, and Chanel. In addition to fashion, the street also has several gourmet food stores, bookshops, and art galleries.
Portal de l'Angel: This pedestrian-only street is one of the busiest shopping streets in Barcelona. It is lined with popular brands like Zara, Mango, and H&M, as well as local boutiques selling handmade products. The street is a shopper's paradise with something for everyone.
Gracia District: This bohemian neighborhood is home to several independent boutiques selling unique and trendy products. The area is known for its artistic vibe and is popular with the younger crowd.
Whether you are in search of high-end fashion, artisanal products, or local delicacies, Barcelona has it all. Make sure to visit these markets and boutiques for a truly authentic shopping experience in the city.
Day Trips from Barcelona
Barcelona is a great hub for exploring Catalonia and experiencing a range of different attractions. Here are some day trip ideas for those who are looking for a change of pace from the vibrant city life:
Montserrat
Montserrat is a beautiful mountain range located just 30 miles from Barcelona. The area is renowned for its stunning views, monastery, and natural hiking trails. Visitors can take a cable car for a bird's-eye view of the mountains and enjoy a peaceful stroll through the monastery that dates back to the 11th century.
Sitges
Sitges is a charming coastal town located 25 miles south of Barcelona. It boasts beautiful beaches, a lively cultural scene, and historic architecture. Sitges is an excellent spot for a relaxing day spent lounging on the beach or exploring the cobblestone streets of the old town.
Girona
Girona is a picturesque city located about an hour north of Barcelona. The city is steeped in history, with a rich cultural heritage dating back to the Roman era. It boasts a beautiful old town with ancient walls and narrow streets, and it's home to one of the best-preserved Jewish quarters in Europe.
Tarragona
Tarragona is a coastal city located about an hour south of Barcelona. It's a UNESCO World Heritage site, packed with ancient Roman ruins, a hilltop cathedral, and an old town with narrow streets and medieval buildings. The city's highlight is the impressive Roman amphitheater, which is over 2,000 years old.
Cadaqués
Cadaqués is a charming seaside town located on the Costa Brava, about two and a half hours north of Barcelona. It is famous for its pristine beaches, crystal-clear waters, and whitewashed houses. It's an excellent place for a relaxing day spent soaking up the Mediterranean atmosphere and admiring the breathtaking views.
These are just a few ideas for the perfect day trip from Barcelona. There are many more destinations to explore in Catalonia, each with its own unique charm and character. Visitors to Barcelona are sure to have an unforgettable experience discovering the beauty and diversity of this fascinating region.
Getting Around Barcelona: A Tourist's Guide
Barcelona is a beautiful city to explore with plenty to see and do. Whether you're staying for a few days or a week, knowing how to get around efficiently can make your trip easier and more enjoyable. Here's a guide to navigating the city:
Public Transportation
The public transportation system in Barcelona is extensive, efficient, and affordable. You can choose from buses, metros, trains, and trams to get around. The metro, in particular, is clean, fast, and easy to use. It operates from 5 am to midnight every day. The trains and trams run from 6 am to 11 pm, while buses run throughout the day and night. You can buy a T-10 ticket that gives you ten trips and can be shared with others. This ticket is the most economical and convenient way to get around.
Taxis
Taxis are a good option, especially if you're short on time or have luggage. They are widely available and metered. You can hail one on the street or catch one at a taxi rank. Be aware of taxi scams and only use licensed taxis.
Biking
Barcelona has an extensive bike-sharing system called Bicing, allowing you to rent a bike for a small fee. There are also many private bike rental companies around the city offering different types of bikes.
Walking
Walking is a great way to see the city, and Barcelona is very pedestrian-friendly. Many of the major tourist attractions are within walking distance of each other. You can also take a walking tour with a local guide to learn more about the city's history and culture.
Driving
Driving in Barcelona is not recommended for tourists. The streets can be congested and parking is challenging and expensive. It's best to park outside the city and use public transportation to get around.
Barcelona is a fantastic city to explore, and getting around is easy and affordable. With a little bit of planning, you can make the most of your time and experience all the city has to offer.
Thank you for the clarification. Here's the article section about "Conclusion:"
Conclusion
In conclusion, Barcelona is a city that has a lot to offer. From its stunning architecture and art to its flavorful cuisine and lively nightlife, there is always something to discover in this vibrant metropolis.
Here are some final thoughts and recommendations:
To truly immerse yourself in Barcelona's culture, take a walking tour of the city's most famous landmarks such as the Sagrada Familia, Park Güell, and La Pedrera designed by Gaudi.
The city is famous for its tapas, paella, and sangria, so be sure to indulge in the local cuisine at some of the city's best restaurants and markets.
For those who love shopping, explore the various stores and markets such as the famous La Boqueria, walking along Passeig de Gracia, or checking out the Raval neighborhood with its vintage boutiques.
Be sure to experience the nightlife in the city. From fancy rooftop bars to hip clubs, the city never sleeps.
Finally, while in Barcelona it's ideal to know the local customs such as taking a mid-day siesta and taking everything to-go.
We hope this guide has given you some insight on the best things to do in Barcelona and that it will inspire you to visit and experience all that this city has to offer.